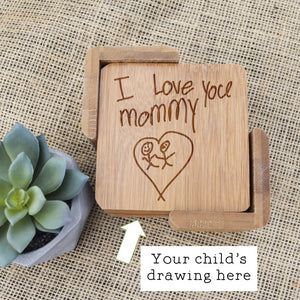 Please let us know any customization requests in the "custom notes" box. Our standard processing time is 3-5 days! We will do our best to get it out to you as soon we can so that you can enjoy your board ASAP! Note: We do not ship overseas. During our busy holidays (i.e. Christmas, Mothers/Fathers Day), this processing time may take more than 3-5 days.
►The dimensions of this item: 
3 3/4" x 3 3/4" Bamboo Square 6-Coaster Set with Holder
Please allow for slight variations in the color and grain of the wood. Each wood product is different and unique!
► Personalization
We can custom design any product for you. If you want something that you don't see on our website, we'd be happy to help create a custom design for you. We just ask for a small fee for the time and effort it takes to make your design.  
►Our coasters make wonderful gifts for any occasion, including wedding/showers, birthdays, anniversaries, Christmas, housewarming, real estate closing, Valentine's Day, Mother's Day, Father's Day, and so much more! You can use our cutting boards on either side- front (with engraving) or back (without engraving). Use them for everyday use or display on special occasions!
FYI, We do not include invoices inside the packages.